Headless Kross have been championing Scottish underground rock for a number of years now and the quality of their output can be clearly seen in their progression and popularity. Here's a quick catch up with lead guitarist Tommy 'Clay' Duffin - enjoy!

Four years in, you've come along way since playing your second gig to an audience of me and 5 others at the captains rest - what have been your highs and lows so far, did you expect the success you have enjoyed?
Well, there is always the potential for playing a gig to 5 people (or less) although it doesn't happen all that often. Usually there's somewhere between 30 - 100 people at a show which, for an underground metal band that gigs regularly in their home town, is not bad going. We get some decent support slots with touring bands which is nice. That's all we ever hoped for so anything more is a bonus. Highs have been recording the last album, visiting Ireland four times, making a lot of new friends and maintaining friendships of old. There has been no lows, only highs.
It seems to me that you have spent time establishing yourself in several towns with repeat visits to crush the locals around Scotland and Ireland. Which countries would you like to invade next? Any tour gossip to reveal?
We only really play when we're asked to so we'll need to wait and see. England and Wales have so far been silent apart from a gig in the woods in the Lake District. We'd like to sort some shows out in that direction. No tour gossip other than the legend of the Slomatics toilet recordings from a flat in Edinburgh rumoured to be hidden in the grooves of their last album, Estron. If you put the needle down in the right spot....
As I understand your latest LP is a concept album about birds building a robot from sticks that then destroys the world. Did I get that right? Can you tell us more about tge messages contained within this theme?
The theme is nature reclaiming the earth from humankind, violently. The wooden robot stuff represents that. I'm sure Derek could tell you more. Derek?
Keeping with the subject of the latest LP, I understand you recorded at a different studio from your previous releases this time out, how did that work for you and were you happy with the results?
We went to Skyhammer Studio in Cheshire and recorded with Chris Fielding who has worked with the likes of Electric Wizard, Witchsorrow, Hooded Menace and loads of other bands in the field of very heavy rock. We just wanted to go somewhere where we knew we were in safe hands as we had spent so long putting the material together and rehearsing it, we just needed a change of scenery and to put it all in a different context than our rehearsal room. It worked out really well. Chris is very laid back and easy to get on with, knows his stuff and has some great studio gear.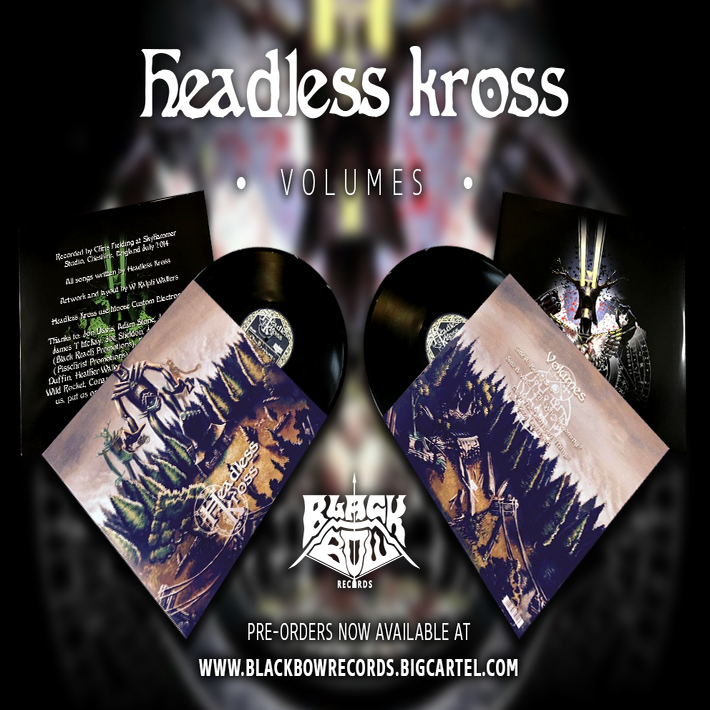 Many of your concerts and tours are supporting fellow bands from the heavy end of the underground spectrum, can you tell us about some of the bands you have been playing with, any joint gigs or tours coming up in the near future?
We've played with Slomatics from Belfast a lot. They've been really good to us, getting us over to Ireland so we always repay the favour. Other Irish bands we're into are War Iron, Wild Rocket, Venus Sleeps, Gummidge, Kuebiko... loads of others. Grey Widow from Brighton are really good, we played with them in Edinburgh the other night. They should invite us down to Brighton, that'd be a nice weekend away.
The band obviously takes its name from the 1989 Black Sabbath LP, one of the much maligned non Ozzy/Dio era records. Personally i think there are some gems outside the golden years of the Sabbath back-catalog but which of these records do you lads reckon need a second spin?
Headless Cross is pretty good. I like Dehumanizer, the kind of "Classic Dio-era Reunion" if you will. I need to go back and listen to them all again. There's definitely some diamonds in the rough.
The eternal closer - anything you'd like to add, shove it in here!
Thanks for taking the time to interview us, here's the internet stuff.
www.headlesskross.bandcamp.com
www.facebook.com/headlesskross
http://www.blackbowrecords.com/
http://burningworldrecords.com/